When: June 27, 2020 – August 8, 2020 (6 weeks)
Sign up for the Summer Reading Program by calling: 863- 2172 0r sign up online here.
If you are entering 6th grade or higher, you are eligible to receive a free book, made possible by the Friends of the Dunbar Free Library. Here are your choices:
Just Don't Fall: A Hilariously True Story of Childhood, Cancer, Amputation, Romantic Yearning, Truth, and Olympic Greatness
One moment Josh Sundquist was your typical energetic and inquisitive nine year- old boy. The next, his entire life changed when he was diagnosed with Ewing's Sarcoma, a particularly virulent cancer strain that would eventually claim Josh's left leg. Told in a wide-eyed, winning, heartbreaking voice, Just Don't Fall is the story of the boy Josh was and of the young man he became. His story begins in a small, close-knit Southern town, where his father-an aspiring pastor questioning his faith, and his mother– homeschooling an ever- growing brood of children-struggle to make ends meet. Josh journeys through a dizzying array of hospitals and eventually lands at a pivotal place: the nearby mountain, where he makes his first attempt to ski.
It is on the slopes, and later, on the race course, that Josh's world bursts wide open in a way no one could have ever anticipated. The inspiration to ski, however, and to become a champion, is not all that Josh has to contend with- there is adolescence to navigate, the transition from homeschool to public high school, and girls. There is an increasingly turbulent and difficult home life, with another cancer scare, a wayward brother, and dwindling finances to pay for training. Finally, there is the wild, bumpy road to the Paralympics in Turin, with a misanthropic coach, training in the Rockies, and a timeless friendship with a charismatic, imposing Brooklyn homeboy named Ralph.
Through it all, Josh is forced to question his abilities, his sanity, his will, his faith in himself, and his faith in God. Because of, not despite, these myriad obstacles in his path, Josh is able to achieve a genuine grace: the grace to risk failure and to succeed. It is the grace of a young boy becoming a man and of a champion realizing his greatest dream. Josh Sundquist shows us with charm, humility and remarkable strength that even if we fall, this inner grace can lift us up and carry us over the many mountains we all must face.
Eleanor & Park by Rainbow Rowell (warning-contains some profanities-suggested age 14+)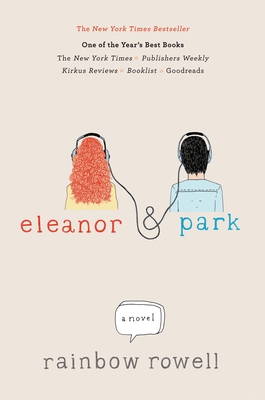 Eleanor is the new girl in town, and she's never felt more alone. All mismatched clothes, mad red hair and chaotic home life, she couldn't stick out more if she tried.
Park is the boy at the back of the bus, Black T-shirts, headphones, head in a book – he thinks he's made himself invisible. But not to Eleanor…never to Eleanor.
Slowly, steadily, through late-night conversations and an ever-growing stack of mix tapes, Eleanor and Park fall in love. They fall in love the way you do the first time, when you're 16, and you have nothing and everything to lose.
Set over the course of one school year in 1986, Eleanor & Park is funny, sad, shocking and true – an exquisite nostalgia trip for anyone who has never forgotten their first love.
The Ruins of Gorlan (The Ranger's Apprentice, Book 1) by John Flanagan (suggested age 11+)
They have always scared him in the past—the Rangers, with their dark cloaksand shadowy ways. The villagers believe the Rangers practice magic that makes them invisible to ordinary people. And now 15-year-old Will, always small for his age, has been chosen as a Ranger's apprentice. What he doesn't yet realize is that the Rangers are the protectors of the kingdom. Highly trained in the skills of battle and surveillance, they fight the battles before the battles reach the people. And as Will is about to learn, there is a large battle brewing. The exiled Morgarath, Lord of the Mountains of Rain and Night, is gathering his forces for an attack on the kingdom. This time, he will not be denied. . . .
Here is the fantasy adventure that launched the Ranger's Apprentice series, an epic story of heroes and villains that has become an international phenomenon. Perfect for fans of J.R.R. Tolkien's Lord of the Rings, T.H. White's The Sword in the Stone, Christopher Paolini's Eragon series, and George R. R. Martin's Game of Thrones / A Song of Ice and Fire series.
Street Lights Like Fireworks by David Pandolfe
Psychic flashes, haunting visions, missing persons and visits from ghosts. That's just their first date.
Jack has been getting on his parents' nerves for some time. Bad enough he's a rock musician, has crappy grades and hangs out with his "loser" friends. But Jack's ability to predict the future—well, that just annoys the hell out of them.
Jack's classmate, Lauren, is said to have unique abilities too. The town still talks about when she kept badgering her mother about the money in their wall. For the longest time, Lauren's mother didn't listen. Finally, she did and Lauren's mother hasn't had to work since.
Jack would really like to connect with Lauren but can't figure out how. She's never looked at him twice. But when he experiences a mystifying event involving visions, voices and spectral visits, Jack figures there's only one person to help him understand who's calling out to him and why. Before long, Jack and Lauren are off on a road trip of discovery that could provide answers to a mystery left unsolved for twenty years. More importantly, they might even unravel the greatest mystery of all— how every so often someone will accept you for who you are.
Pax by Sara Pennypacker (suggested age 11+)
National Book Award Longlist * New York Times Bestseller * An Amazon Best Book of the Year
This middle grade novel is an excellent choice for tween readers in grades 5 to 6, especially during homeschooling. It's a fun way to keep your child entertained and engaged while not in the classroom.
Pax and Peter have been inseparable ever since Peter rescued him as a kit. But one day, the unimaginable happens: Peter's dad enlists in the military and makes him return the fox to the wild.
At his grandfather's house, three hundred miles away from home, Peter knows he isn't where he should be—with Pax. He strikes out on his own despite the encroaching war, spurred by love, loyalty, and grief, to be reunited with his fox.
Meanwhile Pax, steadfastly waiting for his boy, embarks on adventures and discoveries of his own. . . .
Beyond The Bright Sea by Lauren Wolk (suggested age 11+)
– Winner of the 2018 Scott O'Dell Award for Historical Fiction –
Twelve-year-old Crow has lived her entire life on a tiny, isolated piece of the starkly beautiful Elizabeth Islands in Massachusetts. Abandoned and set adrift in a small boat when she was just hours old, Crow's only companions are Osh, the man who rescued and raised her, and Miss Maggie, their fierce and affectionate neighbor across the sandbar.
Crow has always been curious about the world around her, but it isn't until the night a mysterious fire appears across the water that the unspoken question of her own history forms in her heart. Soon, an unstoppable chain of events is triggered, leading Crow down a path of discovery and danger.
Vivid and heart-wrenching, Lauren Wolk's Beyond the Bright Sea is a gorgeously crafted and tensely paced tale that explores questions of identity, belonging, and the true meaning of family.
Summer Reading Program for Teens
Requirements for prize: Just read two (or more) chapter books before August 8th, 2020 and you can choose one of these prizes:
There will be contests, and Virtual Book Discussions if there is enough interest!